( This main post will be updated regularly, coinciding with the on-going events in Lennox's life )
This thread will follow the In-Character development and everyday struggles in the life of Lennox Carter, a troubled youth from Washington Street, Jefferson.
Lennox Carter is a young African American teenager, his time spent in Jefferson is mainly focused on trying to get in with the area's Hustler Crip gang members. This development thread will show you the in's and out's of a youngster trying to make it in the gang life. The following paragraph explains a little bit about Lennox, along with more paragraphs being added as his life goes on.
The Carter family wasn't always from Los Santos. From 1974 to 1994, Lennox's mother, Aliyah was raised, schooled and cared for in San Fierro, Juniper Hollow, to be exact, but as time went on, life in San Fierro grew daunting for Aliyah, debt collectors and repo-men at the door, daily. Lennox was none the wiser to why these mysterious people were showing up at the door demanding all sorts of things from his mother, money being the main focus from the debt collectors. Aliyah was left bankrupt and nowhere to turn after her ex-boyfriend, Lennox's father, left her after emptying her bank, also leaving her with car payments and house arrears left to be paid. It all got a little too much for Lennox's mother, it wasn't before long she attempted to take her own life, pondering with the idea of throwing herself from the Gant Bridge as her son Lennox slept as the bridge was only along the road from where they lived, but every time she decided she was going to go ahead with the suicide, she reminded herself that she had a son, an only son who has nobody else besides her in this world. It wasn't before long Aaliyah had decided to move away from San Fierro. The time came, in late March 1997, Aaliyah made the decision to take herself and her young son Lennox across state and into Los Santos. Lennox's mother had a sister, Cassandra, who lived in the Jefferson part of town. Oblivious to the fact that the Jefferson side of town was plagued by a recent surge in gang activity, to be exact, Hustler Crips based out of Slauson and Washington. Of course Aliyah was aware that Los Santos was voted, "The Worst City to Live in 1996", but despite this, continued into the city with her young adolescent son, Lennox. March 2nd 1994, the small family of two moved into a house on Washington, across the road from the Bahamas apartment complex.
Lennox and his mother were living in the neighbourhood for a little under a week before they encountered their first taste of life on Washington and on the first weekend in living on the area, loud disturbances, thumping music and on many occasions, even gunshots were heard. It quickly got to the point where Lennox's mother Aliyah grew weary when he left for school or even walked to the store, he hadn't made any friends in the neighbourhood so far. Tuesday, the 5th of April, 1994, Lennox was sent to the store for his mother like he usually was, it was here he met a resident of the near-by street, Melvin "Melly" Carpenter, the first strange face he'd spoke to since his arrival on Washington. Although it was the first time Lennox interacted with anyone in a while, he found comfort in speaking with Melvin as all along he feared he might be bullied or ridiculed. Melvin invited Lennox into his home, it was here Melvin introduced Lennox to marijuana along with letting him taste his first sip of lean, cough syrup mixed with a soda, often containing codeine, an opioid. Before long, Lennox had to return home, giving his farewells to Melvin until next time. It was on the way home, Lennox bumped into two Washington residents, Lamont "Monty" Bullard and Jayson "Jay-Money" Burrell, the pair called on Lennox, an unfamiliar face in the neighbourhood, but to their surprise was a new resident on the very street they live on. The more Lennox hung out with the older residents on the street, the more secure he felt, oppose to his previous feelings about living on Washington. Lamont and Jayson took Lennox to the alley between Slauson Avenue and Washington, showing him a fresh rival gang tag on the wall, instructing him to watch, this was the moment Lennox realised that the individuals he was speaking to, were gang members, carefully watching what they spray on the wall. Seeing the graffiti for the first time was confusing for Lennox, it wasn't until Lamont explained exactly what goes on around the neighbourhood and what they do that Lennox began to grasp the picture.
As the months passed, Lennox became more and more involved with what went on around Washington, devoting his young self to the elder residents, doing his best to come across like one of them. At the age of fourteen, Monty had him selling cocaine and heroin on the streets, moments away from his house. Making money and making a name for himself coincided as the sale of narcotics was the only way to live on Eighties, the more he sold, the more money he brought in for the gang, gaining him their respect. Not long before Lennox's 15th birthday he attended a party held at the park along west Washington. As the party went on Lennox was beckoned by Ronell "Bam Bam" Wiggins, it was here he was informed that the work he was putting in for the gang hadn't gone unnoticed and that if he felt he was ready, could step up to the plate and fall into the ranks of the hustlers around the Jefferson area. Growing confident, Lennox felt he was ready to start representing for the gang, telling Ronell that's what he wanted, from then on it was TG Ox doing what he did best and only got better as time went on, during the time Lennox went from a local to Tiny Gangster he'd already pulled in over $13,000 for the gang.
With the money, came the spending sprees, buying unnecessary shit that he didn't even need just for the pure fact that he had money to burn. Suspicions were aroused within the Carter household, his mother noticing clothes in Lennox's room that she hadn't bought him, at first she suspected it was a friends but as time went on and she noticed it happening more and more, right under her nose. She didn't know what kind of trouble Lennox was in, if he was stealing or selling drugs, heck, she didn't even know enough about Lennox's adolescent life to know that he had a small tattoo on his arm. Lennox was completely shut-off from life at home, basically only there when he's sleeping, getting washed up or eating, she began to worry about her son. Aliyah Carter also began to doubt herself, wondering why she'd move to an area like this with a young son in tow. The more Lennox's mother worried, the more she found out. As Lennox would leave his residence, she'd watch him from the window and when he'd get out of sight? She'd move to the top window, surveying his every move til he was fully out of sight which was hard considering Lennox and his mother lived right on Washington Street, the gangs epicentre. Never once had Aliyah confronted Lennox about the life he was leading, mostly out of fear of what her once sweet boy would say back to her, she feared her son's disrespect.
Two years had passed, some of the homie's he once knew were either dead or behind bars, although Lennox knew the risks of life on the streets, he was in a position in his life where he felt untouchable, making a name for himself on the streets of Washington meant more to him than an education, a girlfriend or even spending time with his own blood. Lennox came to the neighbourhood a boy with everything ahead of him, now he's a target on the streets, a target by any opposition the gang faces, does he care? No. He's a hustler. With no school and plenty of money, Lennox had a way of discreetly passing his mother money when she needed it and when her birthday or Christmas came around, he'd have everything laid out for her, she was a mother that didn't question, he was just happy her boy had found a sense of belonging. Lennox was a teenager with nothing to lose but money, a fifteen soon to be sixteen year old running around with money, teachers and public service workers couldn't even earn in a year. Life was good to Lennox, at this stage in life, he just embraced the power that came along with money.
TG Ox, hustling on the streets of Washington day in, day out, putting in work was the goal, making money for Monty was his number one priority, with this, came respect. Ox kept a certain personality about himself, he tried to maintain a harsh but friendly mentality, meaning anyone he didn't know and trust was worthless until they had proven otherwise. Getting noticed more and more as he hustled and held down the neighbourhood with the other Hustler Crip affiliates eventually meant that Lennox would now be initiated into the gang, unlike when he got TG status, Lennox wasn't fully affiliated with the gang in certain ways, this time around Lennox would have to endure a beating by other gang members, on this occasion, Cameron Halloway, Lenard Buford and Lamont Bullard welcomed Lennox into the trap on Washington. At first, Lamont made it seem as if Lennox was in the wrong and had done something that had upset the gang, oblivious to Lamont's method of testing him, Lennox defended himself as best he could in the conversation, denying anything Lamont threw at him, of course, none of Lamont's allegations were true. Before long, Lamont tossed Lennox into the middle of the room, he started counting, it was here the other two gang affiliations laid hands on Lennox, beating him to a pulp, Lamont joining in also. It was on this night, Lennox became a Baby Gangster within the ranks of the Hustler Crip domain.
Time went on in Jefferson, a lot of new faces started appearing on the block, the gang's strength grew on the daily, a whole lotta hungry niggas looking to hustle, the way it should be on the rowdy side. Money was flowing around the slums of Jefferson, primarily around the 30s, 60s and 80s blocks of the neighbourhood. Day by day Lennox grew more confident with his place within the ranks and infrastructure of the Washington Hustler Crips, and if it meant going to jail, shit... gotta do what you gotta do, the mindset of most African American teenagers around the Jefferson area. On a serious note, Lennox actually did end up in the San Andreas penal system, getting caught up in trouble on the block led him to serve what was supposed to be six months, but his sentence was prolonged following his participation in the murder of inmate Derek Higgins on the night of the 3rd, June. When Lennox first arrived in the correctional facility, he'd been brought up to speed with who to speak to and where to speak to them, learning the basic ins and outs of the prison life from his older homie, Kenvante "Knuckles" Hudson. During the conversation, Kenvante mentioned certain names which later would mean a lot more to Lennox than they did when he first heard them.
After serving three months in solitary confinement, Lennox was released back onto the mainline, feeling as if he'd achieved something in life, almost as if he was proud. Things went back to the way they were, minus one disturbing inmate thanks to Lennox's brutality. Growing into his shoes, Lennox began to feel like he was untouchable, gaining a whole new perspective on the subject of life, learning from the old heads of the correctional facility. The loudmouth smart-ass who walked into the correctional facilities long ago had turned into a quiet, observant soldier. Before long, a new task was at hand, another disruptive inmate, posing threat to the Car. An in-mate Too Down had a problem with the way a certain inmate operated and to make matters worse it'd seem that the target at hand had also turned his tongue on Joey, another member of the Car the previous night. After numerous chances to work a deal with the Car, the inmate refused all contact, showing no care for the way things work inside prison walls. Too Down, reluctant to end up in the SHU for the umpteenth time, turned to the young figure beside him and bestowed the task upon him, murder the inmate, "do not stop til he's dead". Eager to prove his loyalty for a second time, Lennox accepted even though inside he was just a scared boy, the following event in Lennox's life would change him forever. On the night of the 7th, Lennox Carter entered the prison library and brutally massacred fellow inmate French West, stabbing him over forty times with a handmade tomahawk, despite Lennox's previous murder for the Car, this time it felt real, this is where Lennox felt real power for the first time in his life.
A short while after the gruesome murder of French West, the cell-block was shut down, all inmates were to retreat into their cells, all besides Carter, he was to remain seated. Lennox was taken from the hall and transferred out back to solitary confinement where he was to remain for the next four and a half months, giving him plenty of time to reflect on his actions. Lennox' first morning in the SHU was nerve racking, having nobody to talk to can be a bummer if the mindset you're in tells you that you got four months of loneliness, but to Lennox' surprise, someone reached out to him on the tier, he was informed that he'd have a kite swung down to him momentarily, an anxious and quick minded Lennox fashioned the small bar of state issued soap to the end of a long tear, ripped from his bed sheet, he stood by his door awaiting further instructions. "Ready on the tier!", the kite was captured with the rod as it rotated and slid near his door, after the respective conversation with the stranger, he opened up the kite, he was met with a note.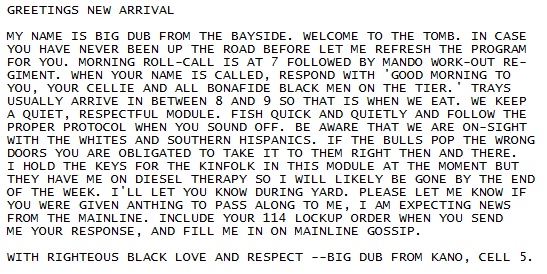 After scouring through the note a few times, ensuring he had taken in all the details, it was as if a weight was lifted from his shoulders, the anxiety and slowly developing depression seemingly had withered away after his encounter with Big Dub on the tier, it'd reassured him with all the reassurance he needed to get through the SHU sentence. After a while, Lennox had himself in a routine, he'd wake up and get in toe with the mandatory workout scheme, keeping himself occupied by requesting books, actually reading them front to back. Prison does things to a young boy, I mean... what young nigga you know that ever came from Washington and read a book? Exactly. Lennox was at the stage he could almost feel himself becoming smarter, taking every piece of information in, retaining it for if he ever needed to use it in life.
Four months go by and Lennox is released from isolation and transported back onto the mainline, having a feeling of accomplishment masked by an expressionless face. Lennox was told that he had done the right thing and had made the Crip car extremely proud, this was all Lennox needed to hear. Trouble, key holder amongst those representing Crips wanted a word with Lennox on the yard, it was here Lennox was stepped up as an OBG (Original Baby Gangster), his work and effort had got him noticed rather quickly within the penal system. Before long, Lennox was to appear at court for the previous murder of inmate French West, escorted from the prison grounds at around 7:33am on the seventeenth of June, transported to the high court. It was this day that Lennox found out he'd be serving an extra eleven years on top of his current eight month sentence, to his surprise, he wasn't shocked, but fully expecting hard time for the act committed. Lennox had best get used to the way of life, he'll be behind bars for an awful while.
As the time passes, Lennox grows more notoriety inside the prison walls, running with the program. Eventually this led Lennox to be stepped up from as the key-holder of Eastside Hustler Crips in prison, taking over from Monty "Trouble" Perkins. Monty was instead given the keys to the Hustler Crip car in block A2. It's apparent that at this stage in Lennox's life, there is little room for mistake and if a mistake were to be made? It could prove fatal for Lennox, prison's not like the streets. Time's were changing in San Anne, seemingly better for The Black Car, their power and influence within the prison grew by the day, just the way they worked brought the word around the prison that were not to be toyed with. It was time for Lennox to step up, if you've been following Lennox's story from the beginning, you'd know that he's nowhere near the same person he was when he first moved to Washington.
Years later
, Lennox was still locked up, five years into his sentence, life was routine on the mainline. The time came where in further interactions with Trouble, Lennox was made a Shotcaller, meaning Lennox had a say in whatever went down on the W and was informed on everything that takes place on every block, but for the time being Lennox is incarcerated, stuck behind the prison walls of San Anne. A few of the homeboys from Washington and Crenshaw were in and out of prison during Ox's time, he ensure he kept them in check and made sure they knew the routine and stuck with the program. One of these homeboys being Arlandis Rose, a troubled teen from Washington. He took Arlandis under his wing whilst he was in prison, trying to show him a better life whilst at the same time trying to better his attitude, it was useless and although Arlandis stuck to the program within the prison, he had a burning rage within, a rage that could only set a person up for certain death. This was the case when it came to Arlandis. HIP LANDIS
Through the years, as Lennox gained trust, earned respect and tried his best to be a leading figure for the hustler crips within the prison there came a time where Lennox was called upon, in this instance, by Jake "Too Down" Russell. Too Down told Lennox not speak until he was done, it was at this time, a gratitude was extended. A gratitude that would change Lennox's life forever, a sacrifice that if accepted, meant street life was over for Lennox and he would have been "moving up" the ladder within the correctional facility. Although however ready Lennox felt he was to move on, he couldn't turn his back on his homeboys. He wouldn't. Lennox declined Too Down's final offer, deciding to keep hold of the keys for the hustler crip car and run it as he sees fit until such point he is released from the facility, no doubt passing the keys back to Trouble. A few days later, Russell swung past Carter's pad a second time, this time to inform Lennox that both of them were going to go at it in the cell, when Lennox rejected the previous offer from Too Down, it was taken as disrespect and although Too Down and Lennox were close, considering one and other brothers, they still got down in the pad. The melee didn't last very long, both parties tired out and weakened, Too Down took the battle and afterwards, it was never spoke of again. It's just how things work on the inside.
It grew nearer and nearer the time of Lennox's hearing, he was counting down the days. Lennox, although likeable and respected within the penal system, missed his old life. There'd be times where Lennox would lay atop his bunk and weep to himself amidst the snores of his cellie and fellow gang member Mute, reminiscing about the old times, his best friends, his brothers, he badly missed the life he once lived. Lennox would stop at nothing to try and show he had changed, every chance he got at jobs coming up in chow, commissionary and even cleaning, he grabbed them. However upset, Lennox powered through maintaining a strong outer appearance and a solid heart, in his own mind he belonged on the streets, he feared more charges, he tried to distance himself from any confrontations within the prison, sneakily keeping away, he couldnt afford it, it'd most likely mean his stay at the facility would be permanent. He remained hopeful, always. He believed he'd be back on the streets.
The following screenshots posted follow the routine and lifestyle of Lennox Carter