ARTICLES

—

EMPLOYMENT

—

REAL ESTATE

—

JOBS

—

VEHICLES

—

WEEKLY CIRCULARS

—

GOVERNMENT PUBLICATIONS

—

PLACE AD
---
Ganton Pursuit Nails Two Arrests!
By Savannah Stratten |
November 11, 2017
---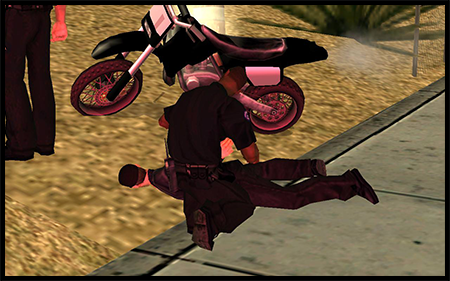 A peaceful afternoon in Ganton quickly turned into chaos as two suspects are apprehended following a pursuit. At approximately 16:30 on the 10th of November, the Los Santos Police Department and Sheriff's Department were involved in a lengthy pursuit around the East Los Santos area. The suspect, which appeared to be a foreign national, was seen driving a black colored Sanchez; narrowly missing several residents outside The Gardens' Complex. Deputy Sheriff Garcia from the Sheriff's Department commented that thankfully no one else was hurt in the incident and this could have been much worse for the suspect and themselves.

While arresting the driver of the Sanchez, a fight broke out with what appeared to be two construction workers. Witnesses claim seeing both individuals yelling racial slurs until fists started flying. Officers were quick to react by deploying pepper spray and neutralizing the situation rather quickly. The Los Santos Fire Department was called to the scene as a precaution for the individuals effected by the pepper spray. Neither the initial suspect nor the two individuals who fought were taken to the hospital. Although, one male was arrested for Assault and Disturbing the Peace.

An Officer from the Los Santos Police Department, who wishes to remain anonymous, stated the foreign national operating the Sanchez could have been connected to recent shootings partaking in a nearby area. Although, no further details would be released at this time. Could this be the start to a foreign reform? How will lawmakers react to this? We'll be sure to update you on the details as they become available in real time.
Code: Select all
[b]COMMENT by[/b] [Insert Username]
[b]Email:[/b] [Insert E-mail] 
[b]Comment:[/b] [Insert Comment]