ARTICLES

—

EMPLOYMENT

—

REAL ESTATE

—

JOBS

—

VEHICLES

—

WEEKLY CIRCULARS

—

GOVERNMENT PUBLICATIONS

—

PLACE AD
---
Licensed to Break Laws: Officer "cannot" be arrested after assaulting a defenseless man
By Jack Fairfield |
May 11th, 2019.
---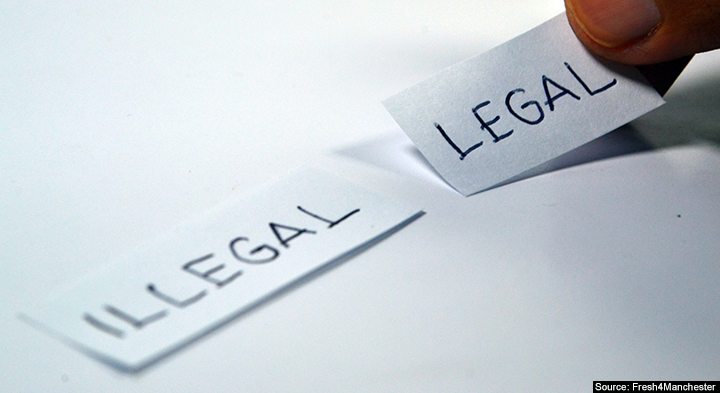 The law is an important part of society. It serves as a baseline for rules and norms for individuals to follow, ensuring safety and justice among human beings. Without the law, there would be anarchy and it would be easy for citizens to do what they wish without the fear of consequences.
Who has to follow the law?
The simple answer is the law is for everyone to adhere to, regardless of background. It is what allows us to live within a peaceful society, and is necessary for acceptance into the society the laws are bound to. However, it is not that simple within the case of Los Santos.
Not too long ago, there was an accident involving a woman who is many months into her pregnancy. A car swerved around the corner, and hit into her while she was crossing the road. Police and paramedics arrived, with a passenger of the vehicle cuffed- suspected of being intoxicated in public after brandishing an open container of whiskey.
Luckily, the woman and her unborn child are deemed to be safe.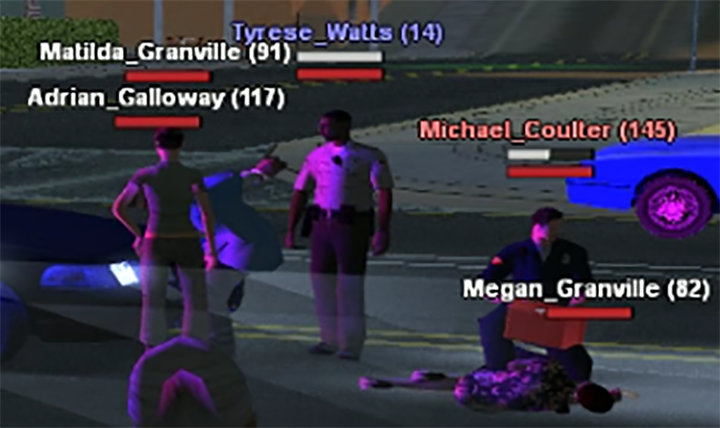 A man is cuffed over the front of a cruiser, moments before being assaulted
The passenger (not the driver) of the vehicle was forced over the hood of the police cruiser as he was being searched, when a vehicle arrived- the sister of the victim who at the time was serving as a correction officer at the State of San Andreas Department of Corrections and Rehabilitation. The female stormed out of the vehicle, and without valid reasoning, viciously attacking the defenseless male who was cuffed and unable to protect himself. In reaction, one officer pulled out a baton, and raised it to the female in an attempt to deter her hostility.
"Hey! She's a cop! Don't hit her!"
"Are you going to arrest a cop? You really gonna put one of ours in cuffs?"
Quotes which are burned into memory, as the woman who assaulted the male was not cuffed, nor detained- and was simply allowed to leave the scene after obviously showing no concern for the law that she is responsible to uphold. Upon being pressed, the police officers claimed that policy forbids them from arresting those from another department without permission- and that it is the citizen's job to press the claim through internal affairs- despite the law being broken right in the middle of multiple police officers.
San Andreas State Constitution Article 1 section I.3)
"No State Agency and its members may arrest, issue orders, interfere with, object or deny the actions or activities of another State Agency and its on duty members unless ordered to do so by injunction from the San Andreas Superior Court or ordered to do so by a member of a State Agency's high command or leadership in an emergency situation."
As it currently stands, members of law enforcement within San Andreas cannot be arrested by members of another state agency, and are to be handled by the offending party's own state agency. This could lead to a situational bias with state agencies being given the opportunity to sweep cases such as these under the rug. It is for this reason that often when law exists- there may be an external body entrusted with the role of investigating complaints upon a state agency in order to give a fair and rational response to these complaints.
This particular event was reflected later on the same evening, in which a large group of individuals were involved in an argument at Avidity Lounge, causing members of the Sheriff's Department to appear on scene. One of the females became aggressive, throwing the heel of a broken shoe towards another female who was involved. Deputies swarmed her, forcing her into cuffs as she was taken into the passenger seat of a police rancher.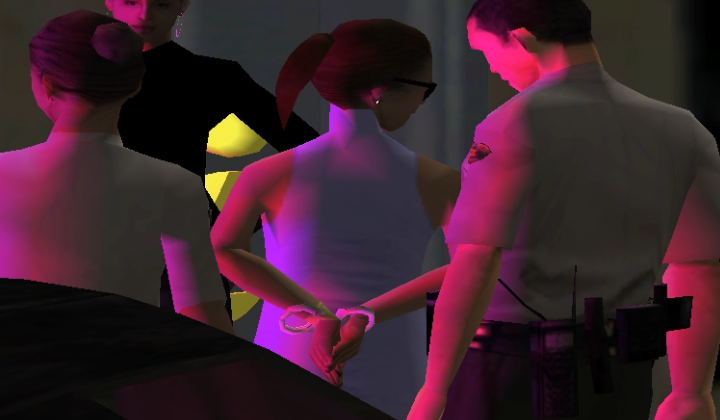 A suspect in handcuffs after throwing a shoe heel at another person.
"If this lady had a badge and worked in law enforcement, would you still be arresting her?"
In which the deputy responded:
"Uh… Suppose so. Can't be breaking the law, you know?"
The female who threw the shoe heel was later released after the victim did not press charges. However, this raises questions about the nature of how the law operate within the city, particularly in cases involving other members of law enforcement. These are two very similar situations with contrasting levels of aggression, and very opposite outcomes.
Within the United States, equality is held as a core value among many of the population- but is equality being shown within the law of San Andreas? The female originally involved in assaulting the defenseless man was terminated by the State of San Andreas Department of Corrections and Rehabilitation, however was not charged despite attempts to press- a situation which would undoubtedly cause many ordinary citizens to serve time behind bars.
Should law enforcement be protected by laws such as these? Or should they be treated just as equally as any other citizen of Los Santos? Please leave a comment with your thoughts!
Code: Select all
[b]COMMENT by[/b]
[b]Email[/b]: 
[b]Comment[/b]: