So, most likely 99% of the big truck truckers will complain about Malt being nearly steadily full. And every single one of them does barely any routes but cereal-malt. There's plenty of industries that don't et any attention at all, because it simply doesn't pay off. Although a thought here is, that could be fixed with flexible prices. I'd leave the most loved routes untouched, such as malt-cereal and Meals - Docks, and make the others flexible. Reason for these to stay, is simply so unexperienced, new truckers have a standard route before they get familiar with the system.
I'd see it as realistic, that if an industry notices, it's demand never gets supplied, they're ready to pay more for the demand to be supplied. As in, instead of just 60$ profit per crate, after being 2-3 hours of on 0, they'd maybe raise the price to 100$ per crate, and keep it untill fully stocked up, or a certain level of stocked up, all untill they're empty and "desperate" again. It'd add a bit of diversity, realism and difficulty to the trucking script, and roleplay itself. It requires you to be steady attentive to the trucker PDA, and allows you to earn a tad bit more profit than others, simply with some more effort and dedication. Also, such markets barely have a steady price IRL, due to material worth (gold, silver, steel and such mostly), and demand. So, this would benefit not only to the player's individual profit/fun/diversity, but also add a bit of reality when it comes to certain markets.
With some further thought, and good scripting I don't see how the script can be abused, as there'll be a limit to what they offer, and not some industries suddenly offering 1000$ profit per crate.
Here's a nearly perfect, visual example:
Caught it at a lucky time, most likely due to the fact most people cannot even access the server, but as you see, the Brewery is fully stocked up on Beverages, and will within the hour most likely be full of Malt.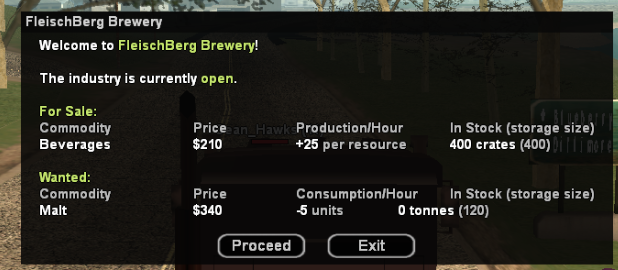 And here, the Fort Carson Distillery, which also produces beverages is nearly on their demand, and their supply fully empty simply due to the fact that it doesn't pay off to move these products.