LOS SANTOS POLICE DEPARTMENT BULLETIN
**** DO NOT CONTACT **** ARMED AND DANGEROUS ****


PERSON OF INTEREST - 187 PC HOMICIDE INVESTIGATION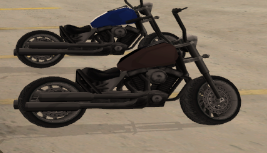 SUBJECT:
Konrad Glodowski
(D.O.B. 14/07/1971)
a.k.a 'Tweaker'

PHYSICAL:
509/186 blk/bro

VEHICLE:
Harley-Davidson Dyna Glide (2012/02)
(similar to above listed veh)
---
The above listed subject is a person of interest in a homicide that occurred on 23/3/16 in the city of Los Santos. Subject is a member of the outlaw motorcycle gang (OMG) Peddlers of Death Motorcycle Club. Peddlers of Death MC is well known for their criminal activities in Los Santos and its surrounding counties, and are considered by the local law enforcement to be among the many second-tier clubs after North America's big four motorcycle gangs like Hells Angels MC and Mongols MC.
The club's insignia or colors are black and white and it's patch consists the front wheel of a motorcycle with heroin needles as the wheel's spokes. The club's motto "Early wish, early grave" is thought to be in relation with motorcycle club culture of heroin and other Class A drug abuse and to pay homage to the saying "take dope, die young".
The Peddlers of Death have been spotted all over the city of Los Santos and San Andreas, moving from an abandoned house used for recreational drug use to a trailer park linked to a town to support the club's street-level drug trade. Through the club's nomadic nature it has built itself ties with other Motorcycle Clubs and various street gangs in San Andreas that share the club's interests and day-to-day life. It has been speculated that some of the club's members are from different white street gangs and other white power groups which have integrated the club's drug culture into their daily life, "from a client to a member" so to speak.
Any information for Los Santos Police Department Detectives Berger (909) 620-2418 or Smith (909) 610-2317

Refer to Los Santos PD Case Number: 14-25132

OOC Information
Permission to post screenshots on the thread is required. To get it, please PM
Poisonskittles
. His inbox is also open for your faction-related questions and concerns.
Name and logo were created by Ruskie and Koehler. Credits go to them.