Grape Street Jefferson Crips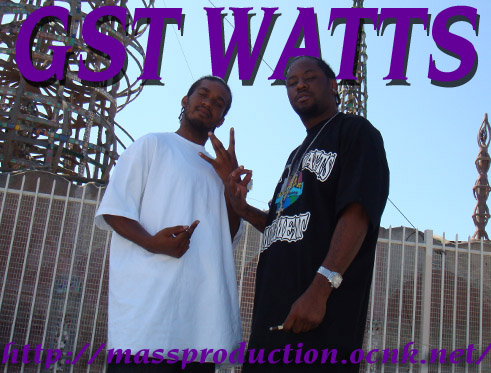 Story
In the beginning the neighborhood was called Watts Varrio Grape (WVG), which included both Mexican and Black members together. When the Mexicans aligned themselves with the Sureno 13 banner, the Mexican members changed their name to South Side Watts Varrio Grape Street 13 and the Black members went by East Side Watts Varrio Grape but by around 1986/87 the new Black members were known as East Side Grape Street Watts Baby Loc Crips. All new members after 1987 from the Jordan Downs projects went by this new name but some of the new members from the Anzacs, 95th, 97 Banderas Block, 105s, 107s and 112s clicks do not necessarily go by the name Baby Locs, but all the new members from the projects (103rd Street click) do, therefore new Black members do not claim WVG anymore, but some long time members of this neighborhood (pre-1987) still by habit say WVG and have WVG tattoos.

Their main rival would be the Bounty Hunter Bloods but since the truce of 1992 their rivalry has not been as intense as it was during the 1980s but it does flare up periodically. The truce efforts that took place in Watts in 1992 should be a great example of what can be accomplished in other areas of the city if replicated in other neighborhoods.

The Grapes have several clicks that make up the entire neighborhood that include the following: Baby Locs, Peta Roll Squad, Peta Roc Squad, Peta Loc Squad, Parolee Squad, 95th, Bandera Blocc 97, 103rd, Dust Town Crip, Dust Town Hoggs, and Tip Top.

The Grape Streets have aligned themselves with most Tray neighborhoods such as the Eight Tray Gangsters and Play Boy Gangsters, most Compton Crip sets, and they have had a tenuous relationship with the Rollin 30s Crips.

Their area goes from 97th Street (north) to 107th Street (south) between Wilmington (west) and Alameda (east). They are the largest Crip neighborhood in Watts at 0.394 square miles and the second overall black gang in the area, 2nd to the Bounty Hunters.

In addition to wearing blue, they like wearing purple for grape. They are named after a north-south street in Watts, and 103rd is the heart of their neighborhood. They occupy the Jordan Downs Housing Projects and attend Jordan High School which is located adjacent to the projects.
Grape St. Watts Crips real life clickas
Anzac Grape Street Watts Crips (different from the ones in Compton)
95th Grape Street Watts Crips (one way streets)
97th Grape Street Watts Crips-Bandera Blocc (one-way streets)
103rd Grape Street Watts Baby Loc Crips (in the Jordan Downs Housing Projects)
105th Grape Street Watts Baby Locs (New Homes, Blue Gate Baby Locs)
107th Grape Street Watts Baby Locs Crip (off of Santana-the original street)
112th Grape Street Watts Crip (near Willowbrook St. near the train tracks)
Dustown Hawgs
Real Bo$$ Playaz
East Side Kids
Ten-Tray Ballaz (they live in the Blu-Gates)
Parolees
Playville
Tip-Top
Skins and Ranks
Leader skin
Top O.G
O.G
Souja
Thug
Grape St. Women
Outsider
Grape St. J.C. Information
Grape St. J.C. skinpack - http://www.megaupload.com/?d=Y4JF80TJ
Grape St. J.C. gang sing - /gsign1 /gsign4 and /gsign8
Grape St. Jefferson Crips Hood
Grape St. J.C. Application
Code: Select all
[center][b]Your real Age? :
Country ? :
Are you good at roleplaying an african american/mexican? :
How many times you've been kicked/jailed/banned? :
Previous character(s) names? :
Previous faction(s)? :
Why you left or were kicked from them? :
Why do you want to join us? :
When did you join the server & how many hours you've been on? :
How many hours you play a day & what time (GMT +)? :
Do you know how to install mods? If you can, how? :[/b][/center]