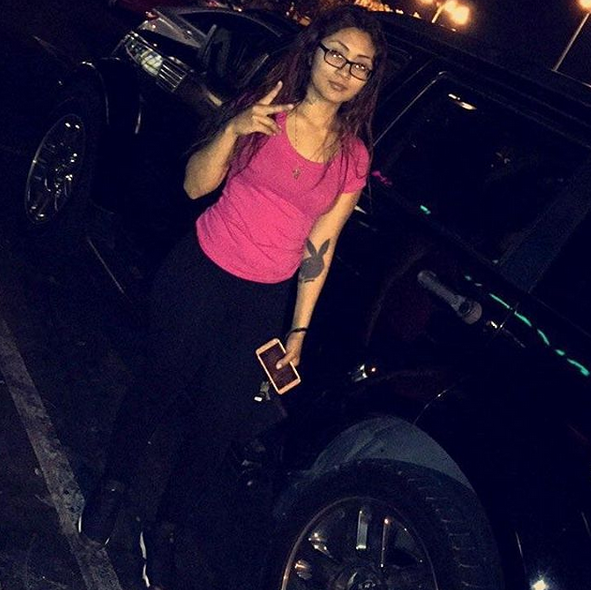 KASSANDRA 'LIL BANDIT' ZANDEJAS
Kassandra Zendejas is a nineteen year old Mexican-American girl from Preston Park, an impoverished slum of South Central Los Santos. She is a member of the Eastside Playboys, a South Central Los Santos-based set within the Playboy Sureños street gang operating in the Pacific and West regions of the United States.
She was born to a twenty four year old father, Enrique Catalan, who was a former conscripted combat engineer turned deserter in the Mexican Army. In order to avoid arrest by the Mexican military and federal police for desertion, he illegally immigrated to New Mexico as a nineteen year old in 1995. Before permanently settling in South Central Los Santos in 1998, her father had made a living as a transient construction worker and drug dealer in New Mexico and Arizona.
She was also born to a twenty year old mother, Kayla Zandejas, who is an original home girl of the Adams Park Playboys.
Kayla's father was a twenty six year old Mexican American man, Roger Liepa, who was a career criminal and veteran of the E/S Ghetto Boyz, a Mexican street gang from South Central Los. When she was four years old, her father was stabbed to death while awaiting trial for armed car theft in the Los Santos County Jail. After her father's jailhouse murder, she was raised by her Mexican American family in Adams Park. She sold crack cocaine during the American crack epidemic as an older child and teenager for the Adams Park Playboys. By the time she had her first and only daughter at age twenty, she had been incarcerated in the San Andreas Youth Authority twice for drug felonies. She also had an adult criminal record for prostitution misdemeanors, for which she served seven months in the Los Santos County Jail as an eighteen year old in the winter and spring of 1999.
When Kassandra was three years old, she saw her father, Enrique Catalan, for the last time ever when he was in a state criminal court courtroom, right before his transferring from the Los Santos County Jail to a state prison in rural Los Santos County on a triple life sentence that included street gang related murders and drug related crimes. Enrique was primarily convicted for the murder of Melissa Yen and the attempted murders of Brian Yen and Jonathan Lang, three members of the Asian Boyz Crip gang in East Beach. The three were attacked by Enrique on the early morning of 6/25/2001 outside Hiran's Market in Willowfield after they disrespected the Eastside Playboys gang during a confrontation with Enrique twenty minutes beforehand.
As the Asian Boyz left the store, Enrique emerged from the far-side alleyway with a small handgun and opened fire in a rage on the unsuspecting trio. Two of the three gang victims miraculously survived the attack, but not without permanent injury. A total of eight shots were fired, with three being fatal. Three bullets struck Lang's spine, leaving him paralysed from the waist-down forever. Another three shots struck Brian Yen's underdeveloped body, leaving him crippled aswell.
Melissa Yen was shot twice in the back of the head while attempting to flee across the street. Enrique led the police on a chase that stretched through Willowfield, Ganton and Idlewood before subsequently surrendering to the LSPD after being knocked off the road on Hill Street in Little Mexico.
In her early life, she had a negligent mother figure. Just weeks after Enrique's incarceration, Kayla began a string of nasty romantic and sexual relationships with neighbourhood drunks, hard drug addicts and serial abusers. Sometimes Kassandra would be a victim of her mother's boyfriend's drunken rage and constantly went to school with black eyes and bruises. As a result of Kayla's poor parenting, Kassandra lacked a strong at-home education and did just as poorly in school. Starting when she was eleven years old, she began committing mischief on her own which later evolved into petty crimes with other troubled street kids in the Willowfield neighborhood.
When Kassandra was twelve years old she met Brianna Molinar, a fourteen year old who would soon come to be known as Tiny. The two formed a very close friendship.
Like many unfortunate children growing up in a gang neighbourhood with family that represents or did in the past, as she got older Kassandra was preyed on and victimised by members of rival gangs in and out of school. The rivals for the most part were female members of the Eighteenth Street and Mara Salvatrucha gangs in Willowfield, who were Kassandra and Brianna's biggest enemies. To a lesser scale they rivaled African American females that came from surrounding neighbourhoods representing the Crips or Bloods.
As they got older Kassandra and Brianna began selling drugs for Kassandra's maternal relatives who were veteran members of the Playboys street gang. In order to prove herself to the Eastside Playboys, Kassandra shot at a thirty two year old retired member of the 46th Street Mafia Crip gang with a handgun when she was just thirteen years old. Her victim was hit in the chest and shoulder with 9x19mm live rounds but survived. Because of her willingness to spill blood for her street gang, she was jumped in very shortly after the attempted murder of the rival.
In the years following her jumping in to the E/S Playboys, she had sold significant amounts of marijuana, crack cocaine, methamphetamine, crystal methamphetamine and heroin on corners and in drug dens. To this day Kassandra makes most of her money through drug dealing. She has helped her homeboys and homegirls in the extortion of neighborhood drug dealers trying to set up shop, regardless of race or ethnicity. Aside from drug dealing and extortion, she has involved herself with muggings, robberies, armed robberies, burglaries, armed burglaries, car thefts, armed car thefts, assaults, attempted murders and murders.
Kassandra has boldly murdered two members of rival street gangs in South Central Los Santos.
When Kassandra was fourteen years old, while in the company of her best friend Brianna, she promiscuously flirted with and dangerously lured a seventeen year old Mara Salvatrucha Tiny Winos member, Brendan Castano, to his own death in an alleyway in Western Willowfield with the promise of sex. To Brendan's knowledge they had Brianna play "lookout" incase someone was coming and could potentially catch them having sex, but Brianna was really looking out for Tiny Winos and police that may interrupt the murder plot. Once alone in the alleyway with Brendan, Brianna watched from the street-side as Kassandra went for a combat style knife provided by Brianna and while Brendan went for a kiss, she stabbed Brendan a series of five times in the chest which resulted in a slow death for him. When she was fifteen, she aided in the abduction of a fourteen year old female member of an 18th Street gang click in East Willowfield and slit her throat while in the sedan used to abduct her, with Brianna cheering on the murder. The personal nature of using knives to kill her rivals has a great personal appeal to her, where she took pleasure in seeing her victims die in front of her or in her arms, especially if she hated them because of personal feuds or street gang rivalries.
When she was sixteen years of age she witnessed her best friend Brianna 'Tiny' Molinar stabbed to death at a Preston Park house party during a brawl between female members of an intruding MS-13 clique and female members of the E/S PBS 13.
Kassandra and her social group in the mourning of Tiny Molinar's death found themselves further pledging allegiance to the Playboy Surenos.
Six months after Tiny Molinar's death, Kassandra was incarcerated in the Blueberry facility of the San Andreas Youth Authority, during her time in female Y.A she met original homegirls from W/S Adams Park Playboys, many of which were original members of the Crystal Bunny Clicka and knew her mother Kayla. She was jumped into the Adams Park Crystal Bunnies during her fourth month of incarceration. Due to her involvement in race riots and gang fights within the Youth Authority Facility she had her sentence extended by almost two years.
Upon finally being released at eighteen years old, she returned to Willowfield where she found the E/S set to be for the most part defunct. She soon cliqued up with former members of the Adams Park Playboys and surviving members of the E/S Playboys. With this, the 46th Street clique gang were formed under the E/S Playboys.
Kassandra continued to make money for her street gang through hard drug sales and robberies, she is currently a known and loved member of the E/S offshoot of the Crystal Bunny Clicka and is actively involved in recruiting females from highschools in the neighbourhood including Gregory Mccaine Highschool.
The Crystal Bunny Clicka, like the E/S Playboys gang, is known to accept African-American and Asian youths into the street gang, as a result of this the E/S Playboys and the Crystal Bunnies don't get along with many other Sureno gangs in South Central Los and consider all other street gangs to be their enemies.