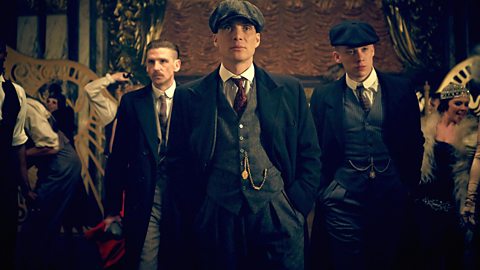 Wikipedia wrote:Peaky Blinders is a television crime drama based upon the exploits of the Peaky Blinders gang, operating in Birmingham, England during the aftermath of World War I. The series was created by Steven Knight and produced by Caryn Mandabach Productions and Tiger Aspect Productions. The series stars Cillian Murphy as the gang's leader.

The first series aired on BBC Two on 13 September 2013 and ran for six episodes. The second series premiered on 2 October 2014. The third series premiered on on 5 May 2016 (available 31 May in the U.S.).

On 26 May 2016, The BBC confirmed the order of two more series (4 & 5).
Cast:
Cillian Murphy, Paul Anderson, Helen McCrory, Tom Hardy, Annabelle Wallis & Sam Neill
---
Is anybody watching this? It's a great drama which topped my expectations from the very first episode. The series does get better and better as you progress through & season 2 is by far the best one thus far. It's been confirmed that there'll be another two seasons so that shows it's a success in the eyes of the BBC.
I'd recommend it to anybody. A solid cast and a solid plot. Definitely worth the watch.