What is Stringing? You probably don't wonder.
Basically, a Stringer is a Freelance journalist.
Turn your TV on, go to a big NEWS channel, see the footage of that cop chase? That shooting? That fire? Yeah, 95% chance that footage is from a Stringer. Stringers use Police and emergency scanners to make a living, they listen to them for call outs and serious incidents. They drive to the scenes and film the action, and sell the footage to news stations. For example; if you have NETFLIX, check out "Shot in The Dark". It follows the 3 biggest stringer teams in North America; Onscene.tv, RMGNews, and LOUDLABS. INTRO:
https://www.youtube.com/watch?v=7AnLDBW1fmw

TRAILER:
https://www.youtube.com/watch?v=qaqlWSeCMnc

https://en.wikipedia.org/wiki/Stringer_(journalism)


Now, here's how to properly portray and RP a Stringer.

First off, lets get the common miss-conceptions out of the way;



"Do I have to have a journalist background to RP A Stringer?"



No, you don't. While your character having a journalist related background/experience makes it easier, it's not required. In this rising age of Stringing, more and more people are starting to do it, retired people, injured people, etc etc.

Having a NEWS background just means your character would have the experience to know what sells best, what angle is best, etc etc.

A Stringers job is to film the action and sell the footage to news agencies, film, take notes about general information (Fatalities, Victims, Cause, etc) and hand the footage and notes to the buying agency, they'll make the story from that.

Anyone can do it, and it's very fun and unique role-play.



"Do I have to have an Ex cop car to do it properly?"



Of course not. Any car will do so long as you roleplay it accordingly, for example;

Is your character a safety nut? If so, RPly buy some Amber&White LEDs from EBay & Install them on your car; just like Harold from RMGNews with his Ford Focus;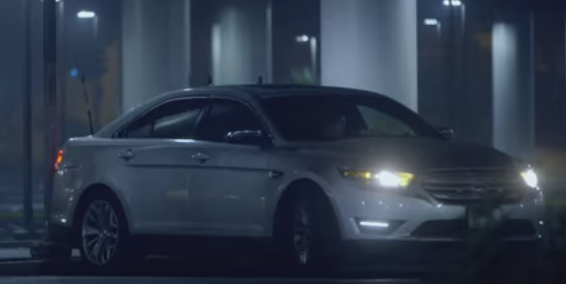 Is your character in love with police cars? If so, go ahead and buy a Decommed CVPI & RP it with the LEDs and Laptop and such, just like Zak from OnScene.tv;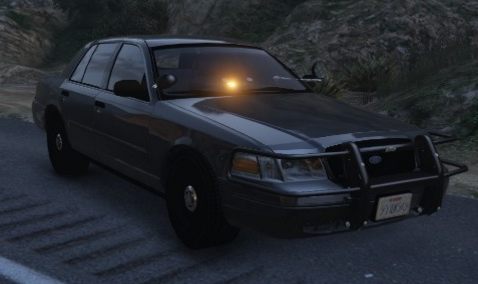 Is your character a speed demon? If so, buy yourself a sporty looking car or a muscle car, so the other Stringers know you're there before you get there, just like Scott from LOUDLABS with his Charger;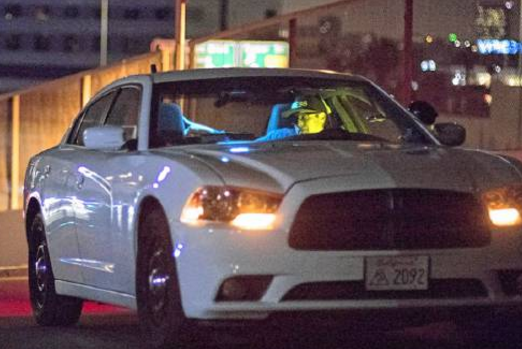 Any vehicle will do, so long as it fits your characters specific style of Stringing.




THE ROLEPLAY



It's simple, have people call/text you if they see any action, make ads asking for leads, get connections in the LEO departments, drive around in search for stories, and when you get to them, hop out and roleplay filming, if you want to take it a step further, actually edit the screenshots so they look good. Take the edited screenshots with your notes and contact SAN or another news agency to discuss business.

As for the rules you should follow;

1. Stay at least 15-20feet away from the scene at all times unless given permission by the officers on scene, ALWAYS ask if you can have a quick interview or if you can come closer to get some footage. For example;

This is okay;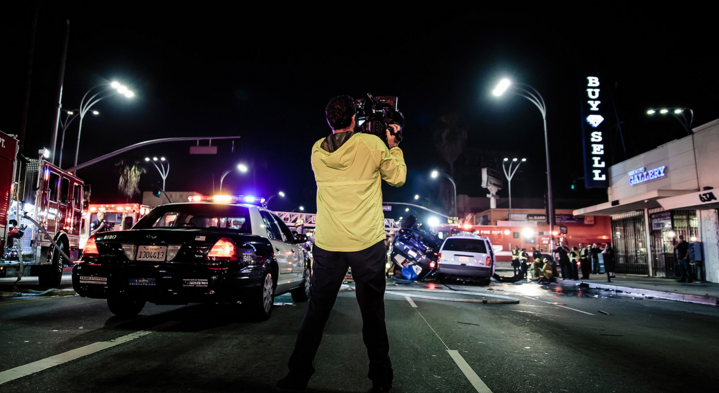 This is not;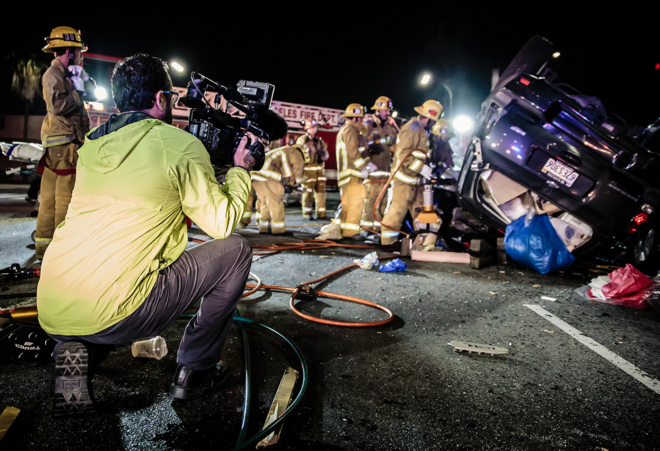 Don't be "That Guy" that FD/PD/SD never wants to see because you get in the fucking way to get your shots.
2. Don't troll with it. Be respectful, follow orders, respect the victims, if the victims are dead, or under a white sheet, blurr it out in the footage.
3. Remember, you're filming possibly the worst and most emotional times of peoples lives, always keep that in mind, your job is to film the scene and get out.
4. If you're out at night, wear a reflective vest;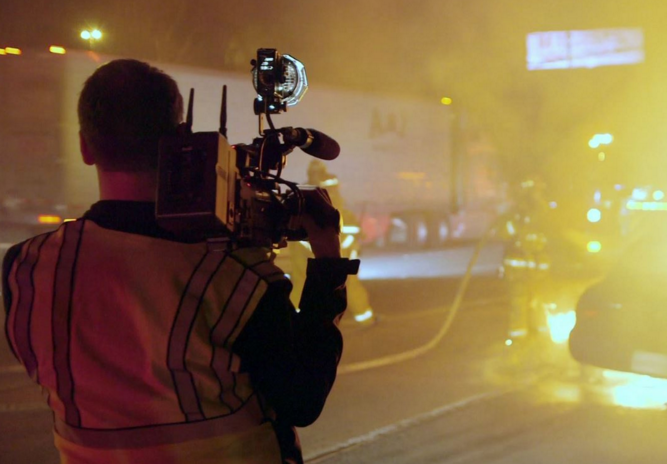 5. If you're responding to a shots fired or active shooter call, it's good to have a bulletproof vest with you, put it on before even driving.
6. Hit record before you get out of the vehicle, and don't press stop until the scene is clear or the action is done, This way you make sure you have every second of the action documented which means if it's good footage you can edit it and send it off right away, which brings us to step 7.
7. Have a laptop/MDC/Personal device with you, that you can put the footage from the camera onto, this ensures that you can edit your footage on the field and on the job, and send it to news companies via e-mail hopefully before any other competition gets it first.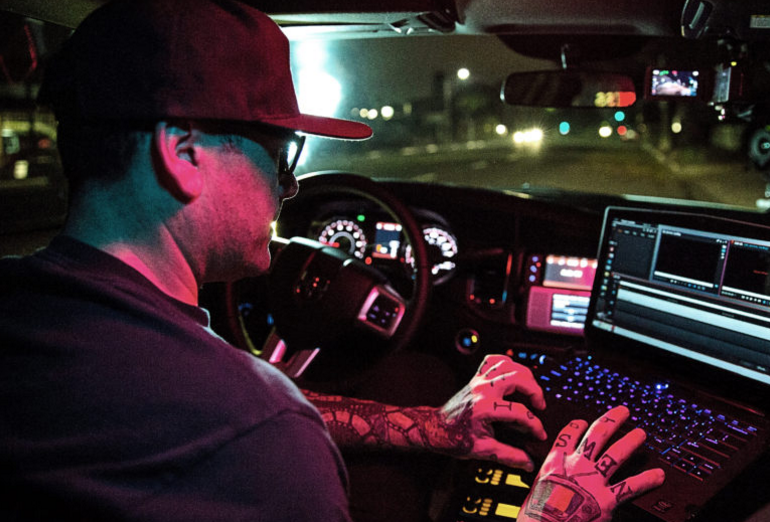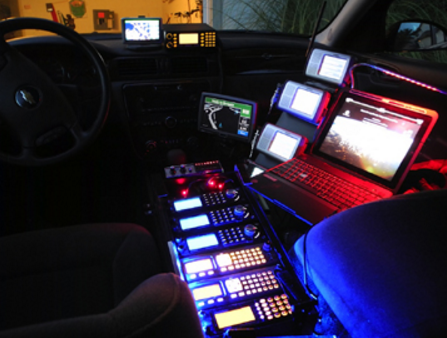 8. Don't expect a good night every night, everyone hates Stringers that PRAY for action, be patient, be calm. Besides, in los Santos someone gets shot every five seconds, not gonna be a quiet DAY, let alone night.
9. Follow the speed limits and road laws, you are not a cop. You're not allowed to speed down streets, running red lights to get to the scene, because that will bring us to number 10.
10. The GOLDEN RULE of Stringing; Do Not Become the Scene! nobody wants to see that a Stringer ran into a shootout to film it and got shot, or how a Stringer died because he was driving recklessly to get to the scene. Play ti safe, play it smart, you wont make any money if YOU are the scene that your competition is responding to!
Finally, number 11, Use your LEDs WISELY. If your vehicle has a lightbar, or caution LEDs on the roof, dash, or grill, use them responsibly, or you can be arrested.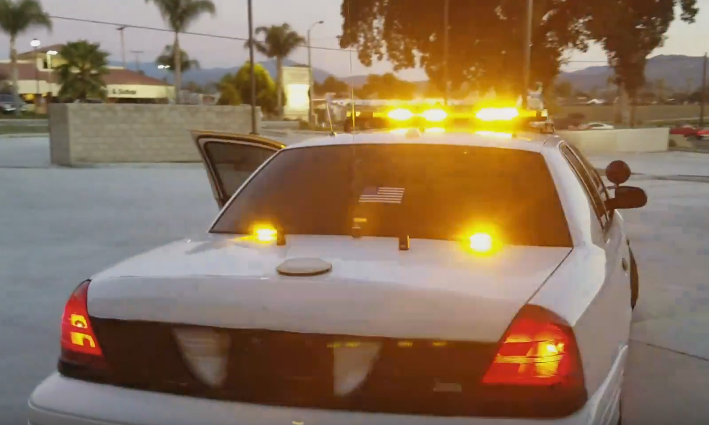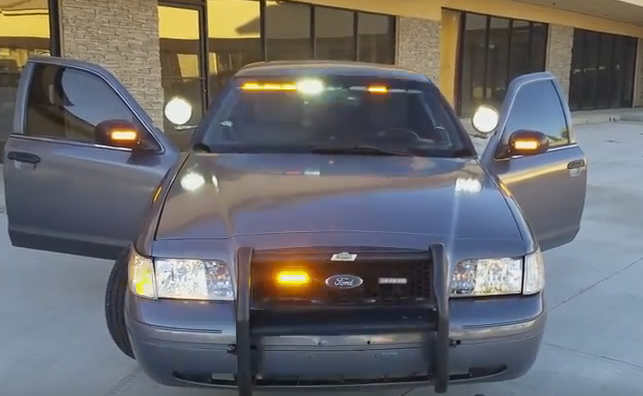 https://www.youtube.com/watch?v=40Cc6bv7wIE
https://www.youtube.com/watch?v=lq9fOjtJps8&t

If you're driving, TURN THEM OFF.
When you arrive on scene, turn the HAZARDS on (Four way turn signals, and trunk & hood LEDS);
If you're on the highway or a busy street where it's likely a car will crash into you, turn them all on for your safety, if you have a spotlight, shine it directly at the ground by your drivers door.

ONLY use these WHEN NECESSARY.

As for clothing for stringers, wear what you want, something comfortable, but safe, a hoody and jeans, perfectly fine, some people choose to wear bulletproof vests and safety vests every time, some just want to have the PRESS BADGE around their neck, as long as it allows you to work properly, safely, and is obvious that you're a member of the press, it doesn't matter.